Dental Staff
All professionals at William W. Clance, DMD maintain the highest levels of accreditation and pursue ongoing education to stay abreast of the latest trends in the medical field. Read on to learn more about our staff's experience and training.
William W. Clance, DMD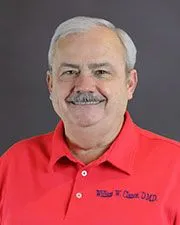 Dr. Bill Clance was raised in Macon GA, and became interested in dentistry while working in the group practice of his family dentist. He attended Georgia Southern College, receiving a Bachelors of Science in Biology degree, with a minor in Chemistry. He then attended the Medical College of Georgia School of Dentistry, receiving his Doctor of Dental Medicine degree. He moved to Metter in 1980 and opened his Family Dental Practice.
Dr. Clance believes that to stay at the top of your field, you must be a lifelong student, and has attended multiple continuing education courses. He began this journey by receiving the Senior Dental Student Scholarship for Excellence in Occlusion and Crown & Bridge Dentistry, to L. D. Pankey Institute in Florida. He has also earned a Fellowship & Mastership from the Academy of General Dentistry, an accomplishment achieved by only 1% of dentists in the U.S.
By continually learning, Dr Clance is able to provide the highest quality care to his patients, whether preventative, cosmetic or comprehensive treatment. It is equally important to remember that we are treating individuals, not just teeth. Our patient's comfort and overall oral health is of the utmost importance, and we are honored to help them in maintaining the health and appearance of their teeth for the rest of their lives.
When not in the office, Dr Clance is active in organized dentistry, local civic and charitable groups, and in his capacity of Adjunct Professor at the Dental School in Augusta. In his spare time he enjoys hunting, fishing, target shooting, camping, boating, and tinkering with old cars.
His true love in life is spending time with his family. He lives in Metter with his wife Delene, who is a retired Physical Therapist. They have one son, Dr. Christopher Clance, who lives in Statesboro and practices at Reidsville Family Dentistry.
---
Sharon Jarrell - Office Manager
Sharon has been working for Dr. Clance for 21 years. As our front office cordinator she handles insurance, scheduling appointments and phone calls. The favorite part of her job is greeting patients when they come into our office. She loves people and likes to know more about them. Sharon enjoys her job because it is like working with family. Sharon has been married to her husband Garrett for 23years. They have two daughters Keagan and KylieAnn. She is very involved in her church and loves being with friends and family.
---
Julie Flanders - Registered Dental Hygienist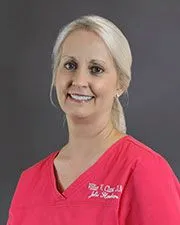 Julie has been a hygienist for Dr. Clance for 28 years. She graduated from Armstrong State College in 1984. Julie enjoys meeting new people and strives daily to help her patients achieve and maintain good dental health. She is married to Tommy Flanders. They have two children, Casey and Carly and son-n-law Michael. They have two grandsons Cade and Ames whom they dearly love spending time with.
---
Danielle Olliff - Registered Dental Hygienist
Danielle has been employed by Dr. Clance as a registered dental hygienist for 5 years. She received a Bachelor's of Science in dental hygiene from the Medical College of Georgia in 2012. She is very thankful for the opportunity to work in her hometown and loves seeing new and old faces on a daily basis. In her spare time Danielle enjoys spending time with family and friends, cooking and traveling.
---
Sheila Trapnell - Dental Assistant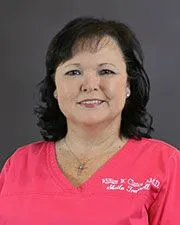 Sheila has been employed with Dr. Clance for 32 years. Because they have worked together for many years, Dr. Clance and his employees feel less like co-workers and more like family. Sheila assists Dr. Clance chair side and with lab work. One of her greatest satisfactions is assisting fearful patients through a procedure and witnessing their smiling face after a successful dental experience. She and her husband, Morgan, have been married for 29 years and have two children, Will and Anna. When she's not at work, she enjoys spending her free time at home and at church with family and friends, working in her yard, and spending time in her pool.
---
Kim Ethridge - Certified Dental Assistant
Kim has been employed with Dr. Clance for 19 years. She graduated from Swainsboro Technical in 1999 as a Certified Dental Assistant. She helps in assisting Dr. Clance and also helps with front desk duties. She enjoys working with Dr. Clance because it is like being a part of one big family. Kim is married to Charlie Ethridge. They have two children, Dawson and Bella. In Kim's spare time she enjoys being with friends and family, shopping and spending time at church.